About Us
Dr Linda Schiller
Dr Linda Schiller has over 22 years work experience and has been a practicing chiropractor in the UK and South Africa since 1998, you can now access her chiropractic care in Joondalup, Northern Suburbs Perth, Australia, to get you back on the road to health.
About Linda's Patients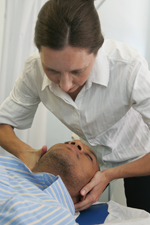 Dr Linda Schiller started her chiropractic career in South Africa. While studying she was a group fitness instructor and a professional dancer. While working as a chiropractor in South Africa she treated international surfers at the Gunston 200 (world surfing championships) and worked on compeptitors at the World Strongman Competition.
When Dr Linda Schiller moved to UK she founded the Croydon Chiropractic Clinic. During her time in the London she treated a wide range of conditions for professional sports people ( Barry Sheene and Crystal Palace foot ball club) as well as the general public. Dr Schiller was also part of a GP education programe and worked closly with GPs and orthopeadic surgeons. Additionally, she worked as a backstage chiropractor at London's 02 and Wembley arenas treating and caring for dancers and performers.
When she first arrived in Australia, she was hired at Murdoch University as a clinic superviser and still helps to train new graduate chiropractors at Lakeside Chiropractic clinic. Now, Dr Schiller is continuing her treatment to professionl athletes by working backstage at Perth Arena ( Queen and many other shows), Barbagallo Raceway and also helping out at the HBF Run for a Reason and Rottnest swim.
On a local club level, she has treated and still does treat rugby teams, hockey teams, marathon runners, cyclists and athletes. As well as professional sports persons, she has also treated thousands of individual patients from babies to her eldest of 97 years old.
About Linda's Qualifications
Dr Linda Schiller conducted unique research into the effectiveness of spinal manipulative therapy on upper back pain, and her study was published in the Journal of Manipulative Physical Therapy. This was first such study published in the world.
She holds a post-graduate diploma in Sports Chiropractic (CCSP) and, in 1999, completed a six-year Masters Degree in Chiropractic Technology at the Department of Chiropractic, Technikon Natal, South Africa. The course covered all aspects of human sciences, biochemistry, microbiology, x-ray, diagnosis, chiropractic, physiotherapeutic intervention, rehabilitation, massage and wellness care (through education, exercise and living a healthy lifestyle). This in-depth study has given her a sound training in the science, art and philosophy of chiropractic.
About Linda's Philosophy
Dr Linda Schiller's passion is in getting the human body to work 100% , heal faster and get you feeling better. She believes in the scientific approach , and considers all aspects of the neuro-musculo-Skeletal systems together with lifestyle choices, nutrition and emotions.
"Eat better, move better and think better to good health."
Dr Linda Schiller
About Linda's Hobbies
All aspects of Dr Linda Schiller's life reflect her interest in helping the human body to work better. Linda spent six years working as an aerobics and water aerobics instructor during her studies. She does regular advanced ballet classes, pilates and going cycling.
As a mum, she recognised that adults should be able to enjoy the same range of movement as her two children. This revelation helped inspire the Schiller Technique – a series of gentle exercises powered by relaxation and gravity.