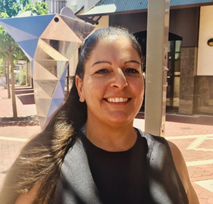 Cherine is a qualified Remedial massage therapist who graduated from the Australasian College of Massage and Myotherapy.
Cherine enjoys working with clients suffering from chronic pain, Stroke Victims, Stress and Anxiety, Depression, Sports injuries and overuse work related injuries. Cherine combines a range of assessment and treatment techniques to apply individualized treatment plans for each client.
Since 2010 Cherine has been involved with professional basketball and AFL players in WA, both St Johns and WA fire brigades as a volunteer, and currently venturing out with the Two Rocks Marine Rescue.
Her treatment style is firstly to assess the body's function and dysfunction, treating the root cause of the issue rather than just the symptoms, educate her clients and provide ongoing self-management tools such as stretches and exercises to prevent injury re-occurrence.
She aims to treat the root cause of the issues and not the symptoms through manual therapy and movement. Below is a list of some of Cherine's mode of treatment:
Swedish Massage
Neuromuscular Techniques
Deep Tissue Massage
Manual Mobilization Techniques
Pregnancy Massage
Postural Alignment
Trigger Point Therapy
Kinesiotaping
Myofascial Release
Dry Needling
Manual Lymph Drainage (MLD) and Lymph taping